COURSES
There's so much that goes into owning and operating a tutoring center business.  At times it can feel very overwhelming.
But don't worry!  I've got you covered.
I have created a series of online courses that are designed to help tutoring center owners build and grow their businesses.  There's something for everyone.  Click on the tabs on the left to learn about each one.  The Tutoring Center 101 online course has everything you need.  But if you want to target specific areas of your business, then check out some of the other mini-courses.
Tutoring Center 101 – An online course for tutoring center owners and directors
The Tutoring Center 101 course is designed for anyone who is even remotely thinking about opening a tutoring center. Maybe you're a current tutor who wants to scale their tutoring business. Do you have a waitlist? Not enough hours in the day to serve all of the students you want to serve? Are parents asking for tutoring services that are outside of your niche or area of expertise?
Maybe you're a teacher who is thinking about a change. Do you love teaching but are tired of the hassles that come with the job? Do you want to be your own boss while still doing what you love?
I'm going to share the same steps I took back in 2012 to start my own tutoring center. Starting a business can be scary. There are so many unknowns. I'm going to walk you through the process and make it as easy and as enjoyable as possible.
Everything I've learned has been through trial and error. I'm going to save you a lot of heartache (and headaches!) by telling you what works and what doesn't. I'll provide step-by-step directions for how to start and run your own tutoring center.
What all do you get???
The Tutoring Center 101 online course includes 6 modules that are jam-packed full of step-by-step directions that will teach you how to open, operate, and successfully run a profitable tutoring center.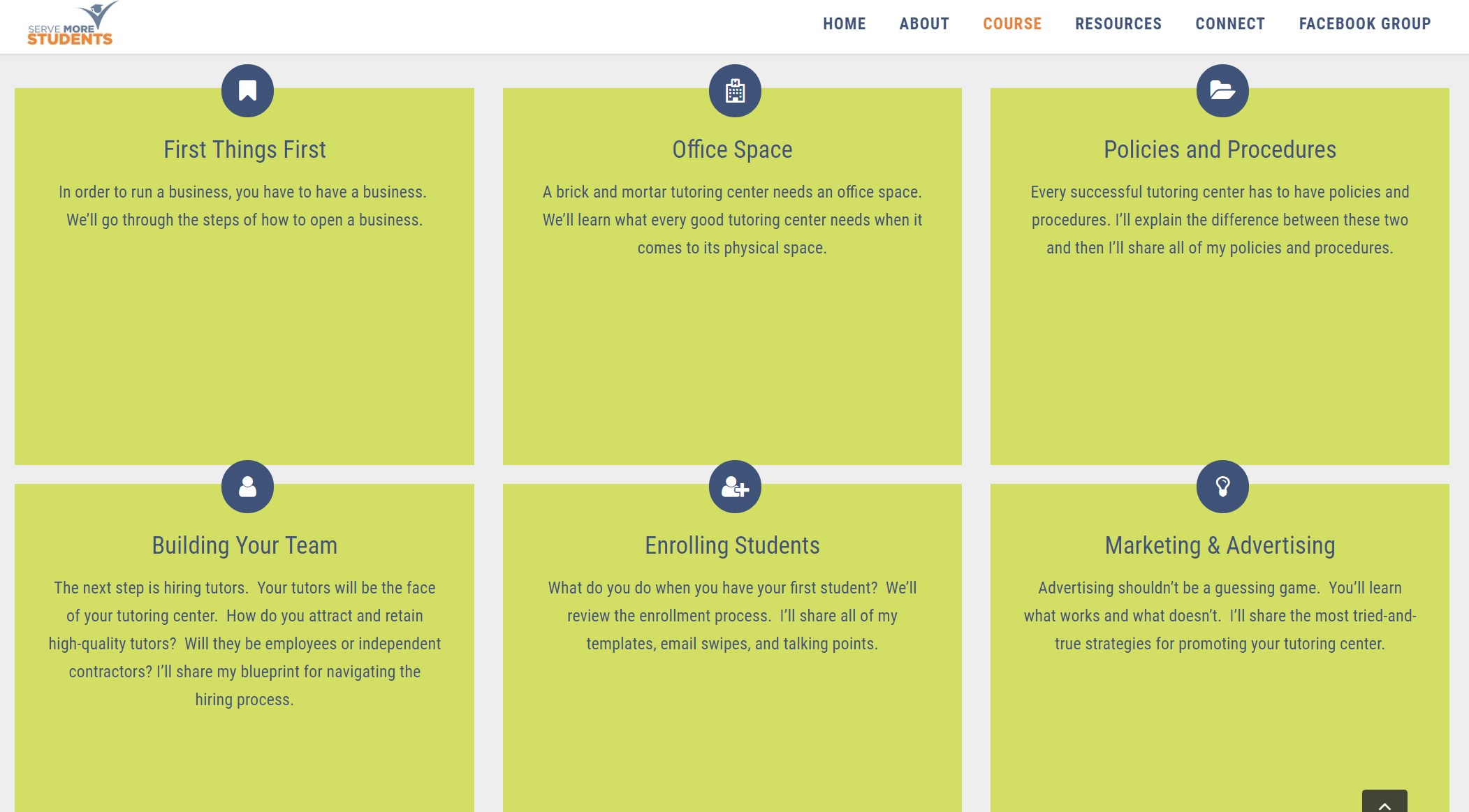 That's not all! You also get….
Swipe templates
These templates are yours for the taking. I'll share the ones I use in my tutoring center. All you have to do is download them, update your information, and start using immediately.
Policies
Contracts
Employee documents
Email swipes
Cheat Sheets
A variety of cheat sheets will be provided to help you along this journey. Don't fall prey to rookie mistakes. Use these cheat sheets to help you build a profitable tutoring center.
Bonus material!!!
You'll also get the FREE bonus module How to Build Additional Revenue Streams. This is a $199 value and comes FREE when you purchase the Tutoring Center 101 online course.
To learn more about the Tutoring Center 101 online course, click HERE.
Ready to enroll in the course? Click HERE.
Opening a Tutoring Center: First Steps
The Nuts and Bolts to Starting Your Small Business
Do you need help getting your tutoring center off the ground and running? This mini-course focuses on the steps required to start your business. We will cover the following topics:
Choosing a business structure
Choosing a business name
Small business requirements
Insurance
Accounting and bookkeeping
Setting up a website
Logos
Email and phone services
Tutoring center models and design
Office space needs
This module covers the nuts and bolts of starting a small business. If you're just starting out, then this is the jumping off point.
Establishing Policies & Procedures for a Successful Tutoring Center
Every successful business needs clear policies and procedures. This mini-course will teach you how to establish the necessary policies and procedures for your tutoring center. We will cover the following topics:
Tutoring rates
Collecting payments
Commitment requirements
Cancellation & reschedule policies
Late arrivals
Warranties and guarantees
This module includes several swipe templates and will give you everything you need to establish your policies and procedures.
Building Your Team: Hiring Tutors
Are you ready to hire tutors for your tutoring center? This is often one of the scariest steps when transitioning from a one-man show to a full-fledged tutoring center. But it doesn't have to be. In this mini-course, I will walk you step-by-step through the hiring process.
This mini-course covers the following topics:
Employees vs. Independent Contractors
Hiring process
Onboarding process (contracts and paperwork)
Paying tutors
Hiring other staff
This mini-course is chocked full of good stuff! Not only are there six video lessons that go into detail about each of the topics above, but you also get access to multiple swipe files that you can download and use. It doesn't get any easier than that!
Establishing a Student Enrollment Process
You have a business. You have an office space. You have tutors. You're ready to go, right?
Oh wait, you need students! There's a good chance that if you are expanding your tutoring business, then you already have students. You probably already have an enrollment process. But if you're starting from scratch, then this mini-course is going to be really important. You need to have a clear process in place for enrolling students. Or, if you already have an established tutoring business, then you may need to re-examine your current enrollment process.
In this mini-course, we're going to review your enrollment policy, discuss how to price your tutoring sessions, and then establish an actual enrollment process. You'll also get four swipe templates!
Marketing & Advertising Your Tutoring Center
Social media…billboards…radio/tv ads…  What works and what doesn't???
Are you tired of playing the guessing game when it comes to advertising and marketing? In this mini-course, you'll learn some tried and true strategies that will help you market your business. We'll focus specifically on recruiting new students, building your brand, and advertising your services.
Building Additional Revenue Streams
We all like to make more money, right???
Could your tutoring center benefit from additional revenue streams? These can be very helpful when it comes to increasing the profitability of your tutoring center. This mini-course will introduce you to five different revenue streams that you can easily add to your list of services.